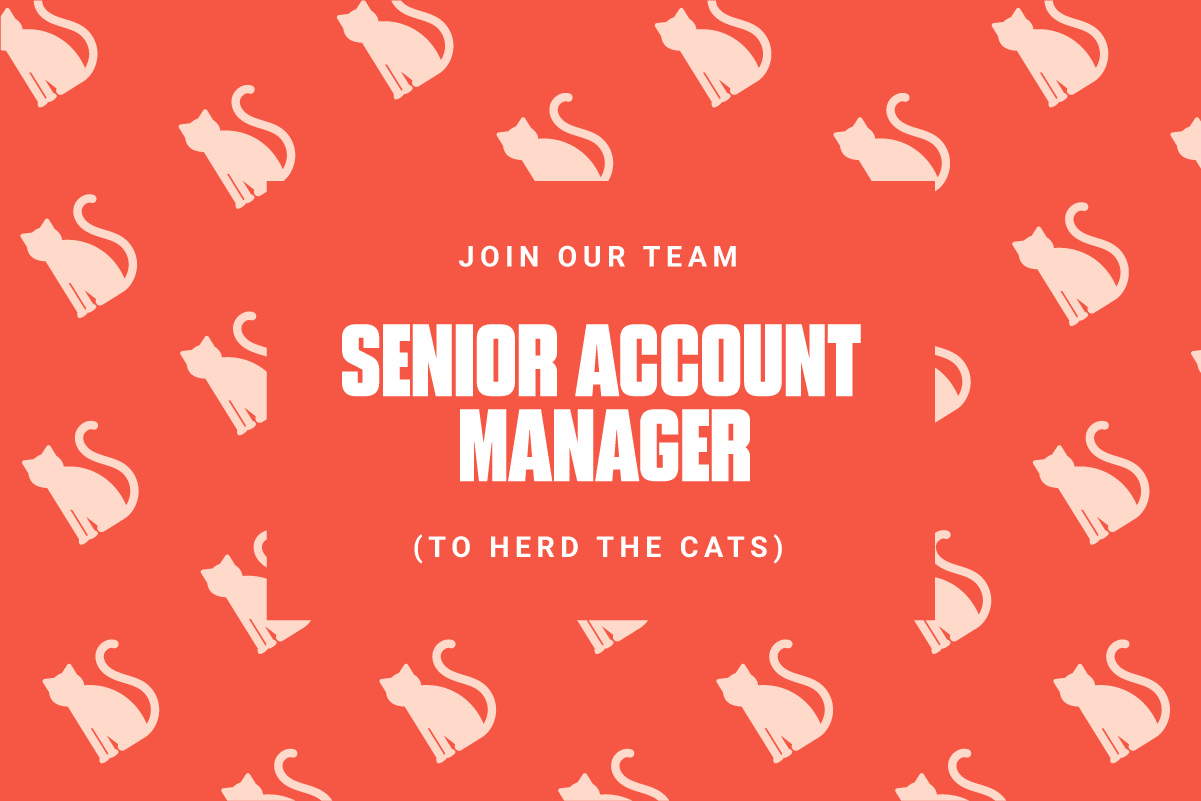 Are you out THERE?
THERE Studio is on the look out for a bright & personable Senior Account Manager to join our Sydney team.
As a highly awarded boutique design consultancy, THERE offers an opportunity to be 'a big fish in a small pond' and drive real change.
The SAM will work across a range of Brand-related projects through their life cycle; from brand strategy and brand development, to final artwork and production.
With a natural passion for all things design and brand, your role will involve: Studio brand team WIP management, facilitating brand workshops, writing creative briefs, driving client meetings, prepare fee estimates, project financial budget management, developing and growing account revenue, general project administration, accounts and reporting.
On a daily basis you will co-ordinate with the creative team, producers, suppliers & directors. Key day-to-day tasks include overall management of deliverables, tracking project workflows and invoice management.

Benefits of working at THERE…

– Competitive salary
– Great warehouse studio
– Birthday leave each year
– Regular team outings and lunches
– Weekly wellbeing activities including things such as massage and tennis
– Weekly social drinks and end of week catch-ups
– Monthly design meetings, giving you a chance to discuss tips & tricks to work smarter and develop your creative knowledge


Key qualities you'll display:


– You take ownership over your role and projects, and display integrity and a duty-of-care in everything you do.

– You own your jobs from start to finish, and persevere if things get challenging.

– You preempt client's requirements and don't wait to be told what to do (because you've probably already done it).

– You are super-organised and confident in wrangling clients, whilst co-ordinating multiple deliverables.

– You bring your smarts, A-game and individuality to every situation. You are a consistent and reliable team-member – you're in this for the long haul, not just the highlights.

– You never settle for average – challenging the norm by being brave and exploring new frontiers of creativity & new ways of doing things. Always thinking, having fun and never being afraid to speak up.

– You bring a can-do attitude to work life and studio culture, because positive behaviour influences the experience of others. You look out for team mates and connect with clients – leaving a positive trail with everyone you engage with.


To be successful in this role you:


– Have 5+ years of highly relevant project management & production experience
– Are disciplined, tenacious, self motivated & process driven
– Have a skill & passion for brand design
– Have excellent written and verbal communication skills, particularly over the phone and in meetings
– Have successfully demonstrated that you take responsibility and do what it takes to achieve a successful outcome, yet believe in leaving a positive trail with everyone you engage with
– Are tertiary educated and demonstrate the ability to think strategically
– Can work with a wide range of people at all decision-making levels
– Have intermediate to advanced computer skills (Mac, PowerPoint, Excel, Word, preferably Streamtime)
– Will be an English-speaking Australian citizen or Perm Resident

If this sounds like you, please email your CV and covering letter with the subject line 'I am THERE' to: careers@therestudio.com