Digital Placemaking
CREATING DYNAMIC CONTENT THAT TRANSFORMS SPACES AND PLACES
From large-scale screens through to interactive kiosks, digital placemaking has the potential to transform a commercial space into a dynamic and inviting place. Digital installations can create an impactful first impression to guests – and with the right strategy in place, digital placemaking can be a powerful tool that improves the overall experience for anyone who visits.
The success of any digital project hinges on the quality of the content – which means that careful consideration needs to be paid to the type of content on display, and how it aligns to your space, brand and audience.
An Impactful Entry Statement
A key influence on the effectiveness of digital placemaking will be its location. A screen strategically placed in an entry lobby can be used to create a dynamic welcome experience, with short and sharp content tailored to an environment with a transient audience and relatively low dwell time.
In contrast, longer dwell time allows for longer pieces of content – meaning that areas where people congregate, such as cafes or waiting areas, are better suited for more meaningful storytelling or immersive brand experiences.
Creative Content
The major draw-card for technology investment is the dynamic and changeable canvas that it provides. Digital screens are an easy way to create a more activated spatial experience, as they allow for an endless library of content to be displayed – continually changing the appearance of a space or allowing the environment to be curated to suit a specific time or event.
Digital artworks can help soften a hard architectural space, or in data-rich smart buildings they be used to create an engaging visualisation of its performance. Content can help to highlight a brand's philanthropic efforts, partnerships or community involvement – and lobby activations provide a great opportunity for an Acknowledgment of Country through considered collaboration with First Nations artists.
Interactive Engagement
For the ultimate visitor experience, interactive or user-generated content provides an opportunity for people to shape the space they are in. Content that is triggered or activated by the passer-by provides an immersive experience that becomes a real-time reflection of its inhabitants. Social media and data feeds also allow a space to engage with members of the community by communicating global events or local headlines.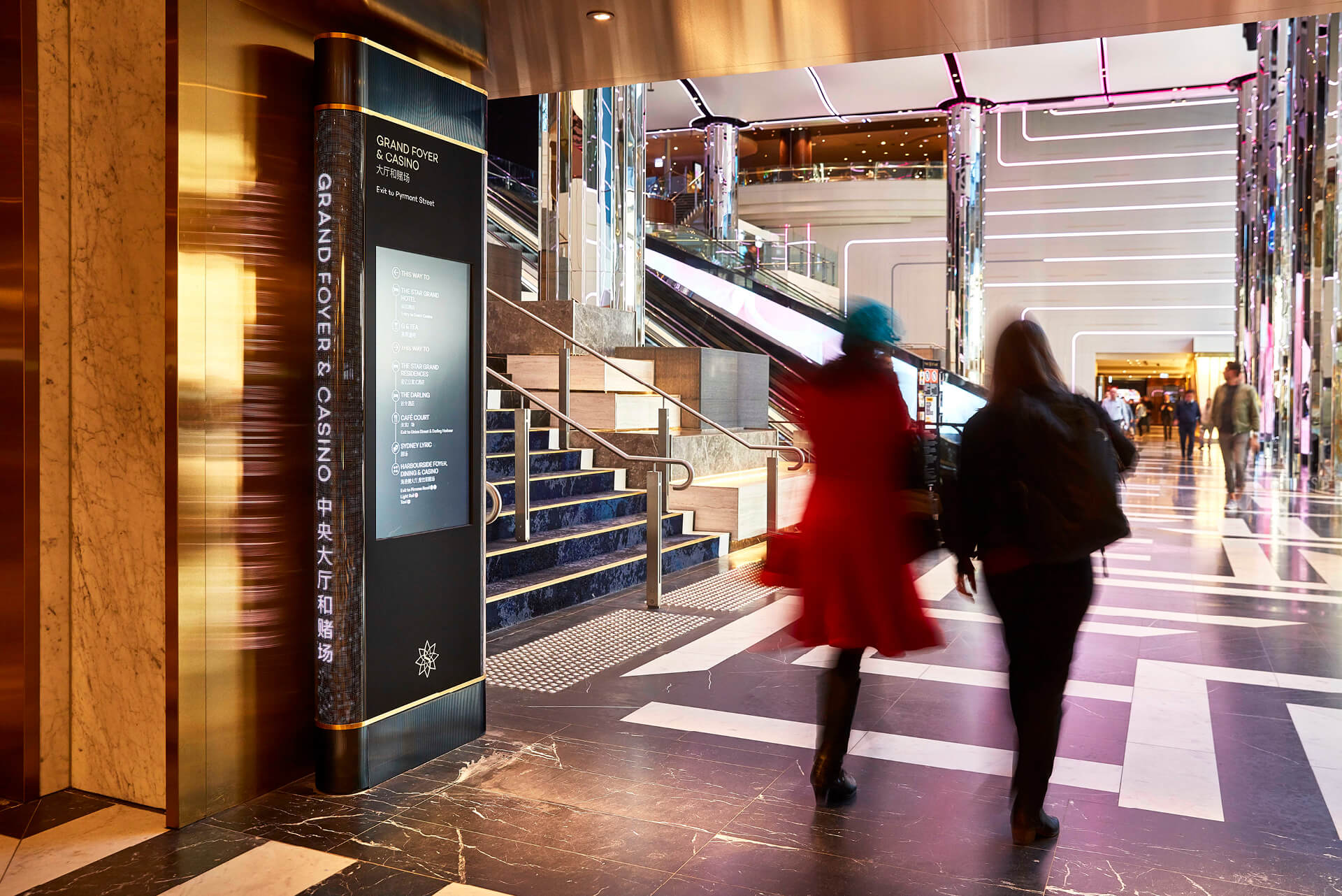 Finding Your Way
Digital placemaking can also extend beyond just aesthetics and has the potential to add real practical benefits to an environment. Screen content can toggle between artwork or advertising, and interactive kiosks can provide wayfinding information to help direct visitors to their destination.
Digital wayfinding allows for both internal navigation within a building but also beyond its footprint, and by harnessing live data feeds it can link to external inputs such as local transport or news and weather.
'Event modes' for screens also allow for temporary messages to be pushed to different audiences – speaking directly to new visitors attending an event or move foot-traffic quickly through a space in the case of an emergency.
For a space that values innovation, digital placemaking can extend from information to art to interpretation. By creating a space that fosters creativity, the inclusion of digital media into the built environment can heighten a visitor's first impression, improve user engagement and ultimately help to increase the capital value of an asset.